This is a sponsored post only in that I have been sent some freebies for little girl, but not in that I am being paid to review.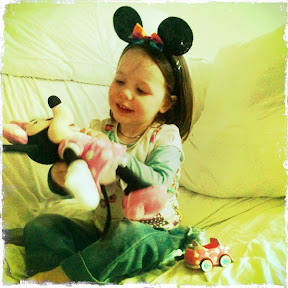 To be honest the only reason I agreed to watch the new Playhouse Disney, Mickey's clubhouse episode is because it happens to be little girls chanel of choice at the mo. She first latched on to Handy Many perhaps picking up on her mothers desire for one of those herself...
Or possibly as a result of our meeting Mickey at the
Tangled
preview....
and so the web of social media is woven....
So, what did we think of Minnie's Bowtique?
Little girl enjoyed it. She loves the songs and shouting 'hey toodles!'.
But, as a girl who seems to have as many cars as dolls, I don't think she saw it as any different to normal, a girlier girly may well.
Her new Minnie is asleep in her bed as we speak/type/read
Me, I giggled at the el-bow joke and have developed a greater tolerance of the 'Hot Dog' song since I found out it is performed by They Might Be Giants.
So Minnie's Bowtique on on Saturday at 9am on Playhouse Disney
I have mixed feelings about Disney, I love the old school magic but, but is it all a little much? I guess only my little girl and time will tell on that one. I'm not ruling out a trip to the Magic Kingdom one day.
Am I the only one who still hears ' M I C K E Y....' in her head at any mention of the mouse himself ?
- Posted using BlogPress from my iPad