Christmas is well and truly over.
I know this not just because I am back to work tomorrow but my sitting room seems to have grown a few feet with the removal of Christmas.
I have even wrestled christmas into the loft. And I mean wrestled.
I have a feeling I only won because Christmas left it's balls behind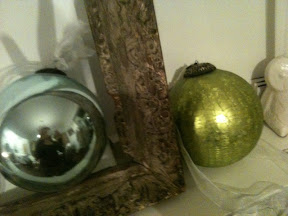 (there is always something)
But, before Christmas is condemned to a distant memory I must write a little aid memoir:
Make sure that Father Christmas buys presents that are the right size. Ensure that if he sees reindeer socks hanging up that he checks whether are little girls knee high socks or grown ups ankle socks.
Also, father Christmas should be easily able to locate his snack and not have to stumble around the room trying to locate it because you, I mean HE has forgotten where it is.
Lastly, dear father Christmas you do not need to use so much paper and Sellotape, these little presents are not wrapped for show but for speedy tearing of paper and rapid present revealing.
Oh, and mummies, make sure you pack the actual stocking when you go to Grandma's for Christmas.
Hey ho Father Christmas, we forgive you it was Isobel's first stocking after all.
- Posted using BlogPress from my iPad