EVERYTHING
The last two Sundays little girl has done her very best to become a water baby. But, with the English summer not quite fulfilling its role on both occasions I have had to remove a shivering-teeth-chattering-'I'm not cold mummy'-protesting little girl from the water or waters edge.
Last week it was the sea and building swimming pools with her Uncle Ross (who is, it has to be said, a digging dervish); a pastime that she gave up and went to building beds – complete with a blanket with Auntie Amanda – a much warmer pursuit.
A day so pleasantly exhausting little girl pretty much passed out before I had done up the straps on her car seat.
But, and this is a celebratory 'Woo-hoo but', there were moments, long moments when little girl was happy to play alone while I finished chatting with my Aunt. I can see a time when I will sit serenely on a blanket reading a book while my daughter plays beautifully beside me! (Well, maybe for a ten minute period at least)
This Sunday I was probably the only mum on the world filling up a paddling pool from the kettle and the hot tap.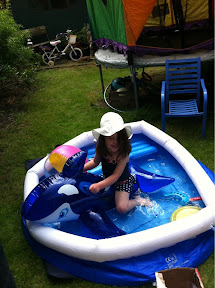 But when you see how much was had with her friend, running from the pool to the trampoline to warm up, it was well worth it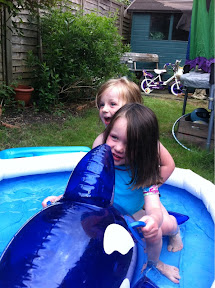 - Posted using BlogPress from my iPad