Last weekend we went camping in our Campervan. (sung as if Peppa Pig)
I love camping. Well, I love camping now we have Clementine.
We went with our usual camping crew and this time Little Girl's daddy came too. This time I not only booked the site (Ashurst) but also picked our pitch; a daunting task for a camping novice to carry out on behalf of her camping Gurus.
We did good though: a pitch with the mahoosive campsite behind us and the wood unspoilt in front of us.
What's not love when these are the smiles once the tent was up?
Or this is the view from by your bed in the morning?
Or these are the games the girls can play, naming logs as Pirate ships and Dragons,
And the ponies approve of your car.
Oh and the nearby pub provides an opportunity to watch little girl and her daddy enjoy each other.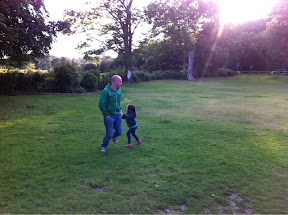 - Posted using BlogPress from my iPad