This time last week I was pulled over on the M3 stripping a child of vomit covered clothes for the second time in one weekend. No, I hadn't packed the seabands as little girl has never vomitted in Clementine before.
Anyway, back to Camp Bestival, the place we were on our way home from...
As I pulled little girl up the hill, under a tree and towards the Kids Garden I knew I was in a happy place. My cheeks started to ache as my smile grew.
Little whooped with joy as the bouncy castle came into view.
Even the queue for empty cash machines yielded smile worthy moments as little girl chatted to all and sundry, deciding every now and then to tell them that 'my mummy's name is Zoe'. Why did that make us smile? They were all men and it came out as if to be an introduction at a singles night. Shame we were at a family festival and undoubtedly all the men were taken!
A free bouncy castle and smiley happy people and we were all in heaven.
Especially when we returned to the Campervan field to see our peeps had arrived.
Saturday dawned rainy and and damp. But who cares, it's a rule that on any camping trip there must be a schlep to the loo with pjs tucked in your wellies and a rain coat on top.
It felt bigger and busier. Less friendly as parents fought to provide their children with the best view of the stage, amazing the lengths peeps will go to to see the Gruffalo. Luckily we retreated and had a far more civilised if much more distant view of Mr Tumble, who I am sure had a better welcome than Elvis ever did.
The Persil area was heaven. Peace, tranquility, tea and amusements. So glad their sponsorship drew me in. A quick digression for the sponsorship piece....
DJ and mum-of-four Jo Whiley hosts the first 'Persil Pass on the Love Picnic' at Camp Bestival this weekend. Mums and kids were encouraged to hold a picnic and bring newly washed soft toys for another child to love - for fun family picnic ideas and more visit www.netmums.com/persilpassonthelove
Right, later while I was interviewing Jo Whiley, oh yes I got to hob knob briefly, my child was throwing a tantrum about leaving the ballet tent. We went back the next day....
So, Jo
Whiley
Can I say how pleased I was to see her looking a little fatigued. The only other thing I think we have in common is that her little girl is just as attached to the bunny we were sent as little girl is, although Jo's daughter hasn't tried to name hers poo-pants.
Anyway, she endured my shambolic interview and the interruption by a smudged teary tiger faced child. What did I ask and what did I learn?
Me: what is the best piece of festival advice you have ever been given?
Jo: Not to worry about what is happening elsewhere; if you are having a good time don't worry about missing Pulp on the other stage.
Me: have you ever duplicated one of your children's favourite toys?
Jo: nope. But my 19 year old has a favourite and cried the other day when it had to be washed and no longer smelled the same. I even sprayed it with my perfume, her dad's aftershave to try and recapture the scent before she returned to college.
I also learnt that while there may be no toys duplicated, precious band t shirts are. Like the Manics one that is about to be worn by her youngest, and hopefully will survive another child's worth of washing.
Interview completed the rest if the weekend was calmer, especially after I found little's coat I had lost; a stressful thing when it looks like your weekend may be littered with rain!
The weekend then flowed with many helterskelter trips, each one leaving me thankful that my bum hadn't got stuck at any point. The two little girls did well on the swings, co operating beautifully.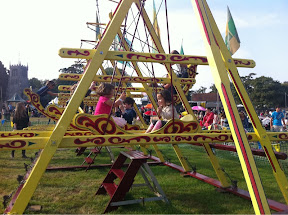 Co operation wasn't a constant theme; where as squabbling was fairly common.
My favourite moments were those we we spread a blanket in the sun and allowed the girls to play and the wine to flow rather than missioning about.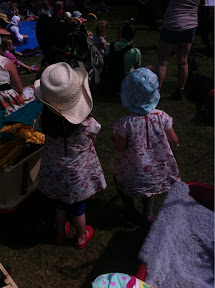 The weekend would not have worked without the lovely Sue who guarded bags and blankets and provided extra hands for child care; extra imagination for games and an extra target for bubbling.
So, a bit like Jo's advice i'd say: go; find a spot with a view and a bar; and plan mini expeditions from there. Perhaps then you can survive crowds with minimal stress.
Oh and always wear flowers in your hair.
Ps. I actually quite like the smell of the purple Persil with comfort and have duly washed George ( otherwise known as poo-pants) in it.
- Posted using BlogPress from my iPad